Edgware Drain Unblocking

London HA8
London Drain Clear Ltd offer professional drain clearing and unblocking services throughout Edgware and North London.
Are you looking for emergency drain unblocking in Edgware and London? London Drain Clear Ltd are the leading provider of quality blocked drain inspections, repairs, maintenance and unblocking services throughout Edgware and North London.
Our highly skilled team are equipped with state of the art technology to offer our customers fast, efficient and affordable blocked drain clearing whenever you need it.
Who is Responsible for Unblocking Drains in Edgware?
Within your own home or property boundaries, it used to be that you were responsible for maintaining your blocked drains and sewers. You were to make sure that what you are putting into your gutters and down toilets prevents clogging.
However, sewerage and any local water companies are primarily responsible for sewers and lateral drains. Companies such as us at London Drain Clear, Edgware are here to assist with all your issues.
A lateral drain is a long pipe that carries any of your household wastewater away from your property and takes it into the sewer, situated outside of property boundaries, and it is their local duty to take care of unblocking any blocked drains.
Most sewers owned publicly; there still exists some privatised or unadopted sewage systems. Those with any private or unadopted sewers hold the responsibility of paying for maintenance and reparations that are needed and may choose which drainage company they wish to work on these repairs.

How Do Professionals Unblock a Drain?
Professionals tackle so many obstacles when unblocking your blocked drains in the kitchen or toilet upon scoping out what seems to be the problem at hand, whether it has gotten clogged with food, plastic and any other miscellaneous items that could've slipped into your drains.
Depending on the severity of the drainage problem, the plumbers may use a small camera to inspect the blocked drain to determine the problem. Doing this ensures that the plumbers choose the best method for unblocking the drains and not one that may do more harm than good.
Hot Water
The first port of call is using hot water. Professionals may use hot water to dislodge any potential food or particles from your kitchen sink. It has the power to dissolve thickened grease that could have clogged or gotten stuck on the sides of the drain.
Auger (Plumbing Snake)
Another tool commonly used in this scenario is an Auger, also known as a plumbing snake.
One can use an Auger in both bathrooms and kitchens, and it is flexible enough to meander its way down any blocked drain and reach what is causing the blockage.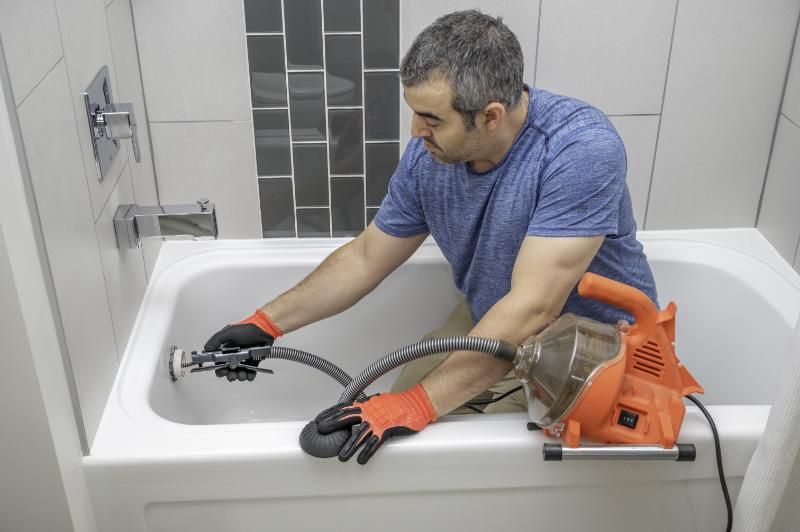 If the plunger fails to unclog the toilet overall, the plumber uses an auger or toilet snake.
It is a small gadget using a rotating head that fires through any blockages that may be further down the toilet pipe.
Hydro jets
Hydro jets have a similar effect. Frequently used by plumbers, they have a highly identifiable nozzle that connects to the end of the terminal. The water from the high-pressure hose forces away any scraps or items that could be causing the clog and frees them of such.
Plunger
When it comes to blocked toilets, there are two methods most common. The first is the plunger.
The plunger is a giant suction cup, much like a vacuum. As it gets pushed in and out of the toilet, the blockage becomes loose, allowing for easier removal.
Hydro-pressure jets
High-pressure jets are a fantastic way to unblock a drain and are mainly used to clean your gutters of any remaining debris.
It is best to get professional help in any of the scenarios mentioned above. Our service is open 24 hours, 7 days a week; contact us at London Drain Clear if you require emergency plumbing.
How to Prevent Drains Clogging?
The best way to prevent getting your drains blocked in your kitchen sinks and toilets is to observe the substances you allow down. Seemingly, this could be hard; however, you can monitor the substances you let past your drains easily if you know what items to prevent going down.
Try your best to scrape out any oils, grease or fats into a bin or carrier bag before placing pans or plates into your sink and fill them with a little hot water beforehand so that any remains can lift.
Ensure that you do not flush any wet wipes, condoms or sanitary products (nappies or nappy bags, tampons or pads, wrappers, bandages, etc.) down toilets.
Do not flush medicines or syringes, cotton buds, dental floss or razor blades. Do your best to ensure that hair does not go down any drains; this isn't easy, and it can compile over time, so lifting the plug-hole when deep cleaning and pulling out any hairs is recommended and can mainly prevent clogging or an overflowing sink.
What is CCTV Drain Inspection?
When a blockage is found and reported to us or any sewage company, CCTV drain inspections must first occur. General plumbing services usually don't offer drain inspection; however, if your blockage's severity is higher and provides more experienced and significant methods, that is where CCTV inspection comes in.
As mentioned previously, blocked sinks and drains can sometimes require looking at more closely to examine the cause of the clogging or blockage. CCTV drain cameras are a highly advanced system used in underground pipes.
They consist of many different components that assist them in their job; a small camera head and reel, radio transmitters, adjustable LED lights and a CCD sensor. The cable reel attached to the camera head is often around 120 metres long so that the camera can be fished as far down into the blocked drain as possible so's to determine the issues.
The lights and lenses allow for a clear, in-colour picture presented to the plumber on a digital screen; thus, they can see the damage better.
Benefits of CCTV Drain Inspections
The modern diagnostic tools allow for a much more accurate depiction of the drains, and therefore, plumbers can detect and diagnose the exact issues of the blockage almost immediately.
Methods like this reduce the time spent repairing to move onto other jobs and reduce the overall cost. It's a win-win for both you and your plumbers.
CCTV inspection can also identify any smaller blockages that go unnoticed and could've led to a significant build-up. The plumbers can also resolve these issues so that nothing escalates.
With all its LED lighting and tech, the camera can provide you with imagery inside the drain.
Whilst it isn't your job to unblock it, it's always good to know what went wrong, what precisely the blockage was so that you can become knowledgeable on how to prevent it in the future.

There are so many benefits to a CCTV Drain Inspection.
Inspections such as this eliminate entirely any guesswork that could've happened that may have lengthened the process with little clarity.
It is penultimately a big time saver when repairing drains compared to the traditional approaches that would've required different testing methods that may not have worked for the job to get done.
If you require CCTV Drain Inspections in the Edgware area, contact our drainage experts today on 020 8363 0448.
CCTV Drain Surveys in Edgware HA8

Drain Unblocking
Our drain unblocking services are available 24 hours a day, 7 days a week, to ensure that you can get an engineer to you when you need one.
Drain Clearing
We can clear all types of drains and sewage pipes to keep your drainage working correctly.
Drain Jetting
Drain jetting offers the perfect solution to maintaining your drainage systems and keeping your drains maintained.
Drain Repairs
If a drain becomes damaged, there are a number of ways in which the drain can be repaired according to the damage that occurred. We can undertake large or small drain repairs throughout Hammersmith and Fulham.
CCTV Pre Purchase Drain Surveys
Discover if there are any potential blocked drain problems in a house that you wish to buy with a CCTV Pre Purchase Drain Surveys.
CCTV Drain Inspections
If you suspect that your drainage systems are underperforming, our CCTV inspections offer a detailed view of any blockages or potential problems.
24 Hour Emergency Call Out
If you experience sewage or waste problems on your property, you will want to get the problem resolved as soon as possible. Our team are on hand to provide emergency drain unblocking when you need us.
Call London Drain Clear Ltd today to get a quotation for drain unblocking, repairs, cleaning and maintenance throughout Edgware and London.